Hartland Heritage Coast
The Hartland Heritage Coast is covered in three Thematic Trails focusing on geology, landscape and changing climate.
The Cliffs of Hartland Quay
Peter Keene.
ISBN 978-0-948444-46-3
Thematic Trails
March 2006.
£2.95
48 pages, 53 illustrations (in colour). A liberally illustrated walking companion which evokes the battle between rocks and sea responsible for the cliffs of the Hartland Heritage Coast. The evolution of the scenery of one of the most dramatic stretches of coastal landscapes in the British Isles is explained.
▲ "I am just back from a holiday in North Devon and wanted to congratulate and thank you for your outstanding booklet on The Cliffs of Hartland Quay. It really enriched my visit to this fantastic coastline. As an example of education as a source of pleasure and recreation it is a little masterpiece. Thanks for writing it." Mike Davis. 8 September 2008 (by email).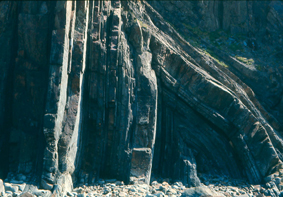 GEOLOGY AT HARTLAND QUAY
Alan Childs and Chris Cornford.
ISBN 978-0-948444-12-8
Thematic Trails 1989.
£2.95
A5. 40 pages. 47 illustrations.
In a short cliff-foot walk along the beach at Hartland Quay, visitors are provided with a straightforward explanation of the dramatically folded local rocks and their history. Alternate pages provide a deeper commentary on aspects of the geology and in particular provide reference notes for students examining the variety of structures exhibited in this exceptionally clear location.
STRAWBERRY WATER TO MARSLAND MOUTH
Peter Keene

ISBN 978-0-948444-06-7
Thematic Trails 1990.
£2.95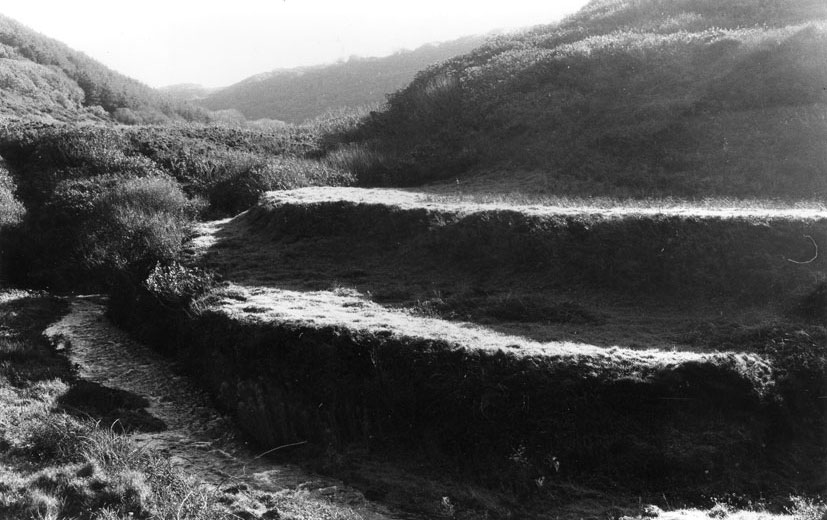 A5. 40 pages. 24 illustrations.
In a quiet coastal coombe, the stream which forms the frontier between Devon and Cornwall, beach pebbles, stream sediments and the material exposed in river cliffs and terraces are examined for visual clues demonstrating the way past climatic changes have radically modified the landscape of the valley we see today. The evidence in this valley is particularly clear but the same events can be recognised in any of the coastal coombes which puncture the cliffs all along this coast.
▲ Peter Keene takes the seemingly unpromising subject of pebbles, stream beds and cliff falls to successfully evoke an appreciation of how climatic change has radically altered the way landscapes behave." (British Geologist)