South Devon and Dartmoor
Landscape walks on the South Devon Coast including Exeter and Dawlish Warren. The Jurassic coast of S.E. Devon is also examined. Dartmoor is explored through its geology, landscape, archaeology and pre-history.
WALKS ALONG THE SOUTH WEST COAST PATH; EXMOUTH TO DARTMOUTH Melanie Border & Ruth Luckhurst.
ISBN 978-1-907701-01-6 Coastal Publications(2011) £4.95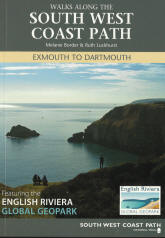 64 pages (A5) 27 colour illustrations including superb route-labelled air photos for most of the 17 walks.
Walks cover; Dawlish Warren - Teignmouth- Labrador Bay – Maidencombe – Babbacom be - Bishop's Walk and Hope's Nose - Daddyhole & Rock End – Torquay Harbour to Brixham Harbour – Cockington – Occombe Valley & Scadson Woods – Galmpton Creek – Broadsands to Churston Cove – Brixham Harbour – Berry Head – Sharkham Point – Scabbacombe – Froward Point.
These walks combine walks through magnificent coastal scenery with the added interest of geological, wildlife, heritage and cultural material.

WALKS ALONG THE SOUTH WEST COAST PATH; DARTMOUTH TO PLYMOUTH
Ruth Luckhurst.
ISBN 978-1-907701-03-0
Coastal Publications (2011)
£4.95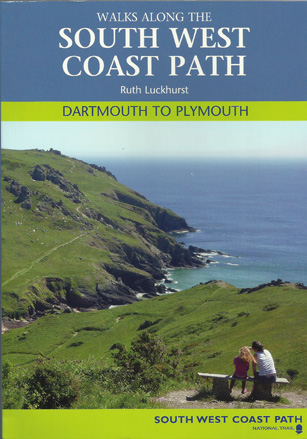 64 pages (A5) 51 colour illustrations including excellent route-labelled air photos for most of the 18 walks.
Walks cover: Dartmouth Castle and Little Dartmouth – Strete & Blackpool Sands – Slapton – Torcross & Stokenham – Beesands & Hallsands – Start Point & Great Mattiscombe – Prawle Point – East Portlemouth – Sharpitor – Bolberry Down – Hope Cove – Bantham to Thurlestone – Ringmore & Challaborough – Burgh Island – Kingston – Noss Mayo & Revelstoke – Wembury Point – Plymouth Sound.
These walks combine walks through magnificent coastal scenery with the added interest of geological, wildlife, heritage and cultural material.


The Official Guide to the ENGLISH RIVIERA GLOBAL GEOPARK 400 million ye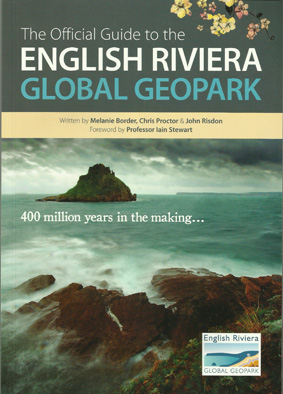 ars in the making. Melanie Border, Chris Proctor, John Risdon
ISBN 978-0-9544845-8-3 Coastal Publishing (2010) £4.95
64 pages (size:170mm X 230mm) 103 colour illustrations including a fold-out geology map.
The book follows a chronological geological journey through the 400 million years that made the English Riviera Global Geopark, covering Torquay, Painton and Brixham, its geology, its wildlife, both terrestrial and marine and the landscape-based cultural heritage.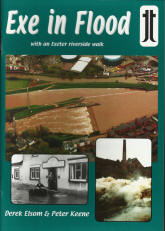 EXE IN FLOOD, an Exeter riverside walk Derek Elsom and Peter Keene.
ISBN 978-0-948444-43-2
Thematic Trails 2003. £2.95
A5. 48 pages. 28 illustrations.
On a pleasurable walk through riverside Exeter a commentary is offered on the long love/hate relationship between the city and the River Exe and the long history of flooding. The catastrophic floods of 1960 are described as are subsequent actions to curb flooding. This new expanded edition reflects on the success of strategies adopted to protect the city over the subsequent 43 years. Enjoyment of the walk is increased by questioning and interpreting what is seen along the way and the reader is encouraged to examine what actions have been taken to curb flooding of the low-lying parts of the city. The commentary demonstrates how flood control measures have dramatically altered the riverside landscape to prevent a repetition of the 1960 floods which inundated over 1,200 houses and businesses. The possibilities of future floods in the city are considered.
For further books, on "Rivers in Flood" see side menu.
EXETER IN STONE, an urban geology Jane Dove.
ISBN 978-0-948444-27-2Thematic Trails 1994. £2.95
A5. 44 pages. 24 illustrations.
"Directed at 'the curious visitor and interested non-specialists', Thematic Trails Trust publications incorporate and translate professional knowledge from the academic literature to which members of the general public don't have ready access....Exeter in Stone is a fine addition to the ever-expanding list of booklets on the building stones of British towns and cities." (Geology Today)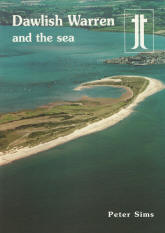 DAWLISH WARREN AND THE SEA
Peter Sims
ISBN 978-0-948444-13-5
Thematic Trails 1988 & 1998.
A5. 48 pages. 44 figures.
£2.95
Within living memory Dawlish Warren in South Devon has dramatically changed its shape several times. A shoreline walk explains the nature and history of dynamic coastal change and its implications for both short-term and long-term coastal management. An integrated four-page update comments on recent coast defence measures.
Letter: "Thank you again for the brilliant guides. I am currently working in a school and have spent the last two days at Dawlish Warren. Both guides were very helpful. I look forward to exploring Westward Ho!" Dave Watkins. (06.11.2006)
DAWLISH WARREN ECOLOGY TRAIL Janet Keene and Richard Weaving
ISBN 978-0-948444-19-7 Thematic Trails 1991. £1.50
A5. 44 pages, 20 illustrations.
A guided walk and reference booklet suitable for both non-specialist visitor and naturalist interested in exploring the contrasting habitats and wildlife of the Warren.
South-east Devon (Jurassic Coast)
GEOLOGY OF THE JURASSIC COAST (THE RED COAST REVEALED) - Exmouth to Lyme Regis.
Richard A Edwards.
ISBN 978-0-9544845-4-5
Coastal Publishing 2008
£9.95
128 pages. 190 illustrations. Full colour. Fold-out map geology map of the red coast. After a geological introduction to time and the landscapes of the Red Coast, a journey is made through the rocks and coastal landscapes between Exmouth and Lyme Regis.
WILD LIFE OF THE JURASSIC COAST
Bryan Edwards

ISBN 978-0-9544845-3-8
Coastal Publishing 2008
£4.95
96 pages A5. 190 illustrations in full colour with extensive use of O.S. maps. This is a exploration of a really special series of habitats with an integrated and well-illustrated guide to recognising plants and wild life on this unique coast. The geology of the Jurassic Coast has given rise to particularly diverse habitats and is home to a wide range of internationally important species, some of which are found nowhere else on Earth!
EXPLORING THE UNDERCLIFF (The Axmouth to Lyme Regis National Nature Reserve) Written by Donald Campbell and edited by Prof. Denys Brunsden
ISBN 978-0- 9544845-2-5 Coastal Publishing 2006 £4.95
64 pages (A5). 120 photographs and illustrations (full colour). Introducing the flora and fauna, the fossils, the people and the history associated with this unique area between Axmouth and Lyme Regis, including an explanation of the geology and landscape of the coastal landslides.
JURASSIC COAST GUIDE; a walk through time.
Edited by Denys Brunsden Coastal Publishing £4.95
64 pages (A5). 150 images. This guide to the Jurassic coast is a comprehensive companion for anyone visiting this coast and is endorsed by the World heritage Site team. It includes the rocks, fossils and features that make it a place of global importance. It introduces the key places along the coast and suggests activities to help you explore the area and make the most of the 185 million years of the history of the Earth that is laid out in 95 miles of stunning coastline. There is guidance on fossil collecting, an explanation for the coastal evolution of the coast and a large fold-out map for exploration.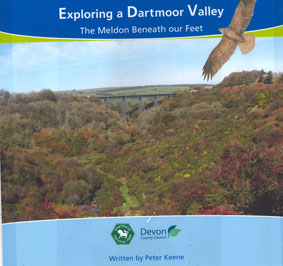 DARTMOOR
EXPLORING A DARTMOOR VALLEY The Meldon beneath our feet
Peter Keene. Dartmoor National Park Authority
ISBN 978-0-905981-40-6 2007 £3.99
(Size 21 X 21 cm) 36 pages, 38 photos, 6 maps, 6 figs. This full-colour booklet provides a guide for your own exploration of the Meldon Valley. Maps give clear directions indicating the most convenient ways of approaching this hidden little gem of a valley; by car, train, bus, cycle, horse or on foot. The booklet highlights 12 sites of particular interest, including half-hidden ruins of industrial archaeology, abandoned quarries, lakes and woodland. A comprehensive commentary emphasises the way the archaeology, landscape and ecology are interlinked and are all closely related to the geology beneath our feet.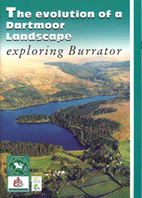 THE EVOLUTION OF A DARTMOOR LANDSCAPE: exploring Burrator
Peter Keene, Dartmoor National Park, 2001.
ISBN 978-0-905981-11-6
36 pages. 36 illustrations.
£3.99
The audience includes educational groups but the booklet is also specifically directed to non-specialists who experience pleasure in walking, cycling or driving on Dartmoor yet also seek some explanation for the landscape around them. The approach adopted in this booklet is to concentrate explanation on a selection of viewpoints, all close to or within easy reach of roadside parking places.
"Last Easter I took a party of undergraduate students to Burrator and used the landscape field guide written by Peter Keene. I wish to express my deep gratitude for the guide which I found extremely clear and helpful."
Alan Kendall, School of Environmental, Sciences, University of East Anglia. (17.04.08)
A GUIDE TO THE ARCHAEOLOGY OF DARTMOOR
ISBN 978-0-905981-40-6 Dartmoor National Park Authority 1996. Reprinted and revised 2003 £3.95
(A5) 74 illustrations including 9 photos and 64 hand-drawn sketches which form part of a comprehensive glossary which aims to help people recognise the different types of archaeological monuments on Dartmoor. The book is divided into sections covering Prehistoric Dartmoor, Medieval Dartmoor, Industrial Dartmoor and Boundaries and Byways. A landscape companion for those who wish to discover and understand more of Dartmoor's intriguing past.
MERRIVALE, AN ARCHAEOLOGICAL LANDSCAPE
ISBN 978-0905981-31-4
Dartmoor National Park Authority 2004. £3.50
(A5) 28 pages. 17 hand-drawn figures, 3 maps, 4 photos. The inside front site plan of this booklet displays the rich array of features contained within this site, including round houses, stone rows, cairns, enclosures, a burial cist, a reave and leats. A cumulative coverage from 2500 BC to the 19th century. All these features, easily found within the relatively compact site, are clearly explained within the text.
HOUNDTOR, DESERTED MEDIEVAL SETTLEMENT

ISBN 978-0-905981-07-9
Dartmoor National Park Authority 2002 £3.50
(A5) 18 pages, 10 figures including photographs and an A4 artist reconstruction of the deserted medieval settlement. 5 maps including a comprehensive, clear site map. Explanation includes sections on the Field systems, Longhouses, Corn-drying barns and two small cottages. Discussion includes the contemporary economy and the period of occupation.
SITES OF GEOLOGICAL INTEREST IN DEVON
If you are interested in sites of geological interest in Devon here are two links which will interest you: www.devonrigs.org.uk offers a list of some 117 regionally important geological sites and enquiries for information on these sites are welcomed. There is also an Educational Register of Geological Sites (a guide to Geological Fieldwork in Devon) and this may be found on: www.devon.gov.uk/geology.htm