North Devon History
Bucks Mills, Barnstaple, Bideford, Appledore, Westward Ho!
BUCKS MILLS people and place John Bradbeer ISBN 978-0-948444-56-2 Thematic Trails. 2011. A5. 36 pages. 32 illustrations; full colour.£3.60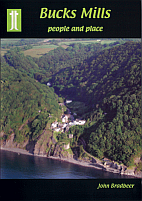 Bucks Mills is a small coastal village some eight miles west of Bideford, but hidden within a deep wooded valley which ends as a steep descent to the shores of Bideford or Barnstaple Bay. By means of a short walk, John Bradbeer traces the history of the village, drawing upon triggers seen within the landscape. So, not only do we learn about the Braund fisher family of the village but also the difficulties of handling sailing ships upon this rocky shore, the beach-work trade, the limekilns, the toppling cliffs, the birds one might see upon the shore and the work of artists attracted to this remote village and beach. This booklet lives up to the tradition of 'landscape companions' which Thematic Trails has developed over the years in North Devon.
Barnstaple
EXPLOR

ING BARNSTAPLE (2nd edition)
John Bradbeer. ISBN 978-0-948444-42-5 Thematic Trails 2002. A5. 40 pages. 35 illust. £2.40
There is no better way to get a feel for the history of Barnstaple than to walk its streets and explore its hidden by-ways with an expert who has researched the history of the town and who cleverly responds within the text to the questions which inquisitive visitors inevitably ask.
Bideford

EXPLORING BIDEFORD Peter Christie.
ISBN 978-0-948444-31-9 Thematic Trails 2000. A5. 48 pages. 25 Illust. £2.95
Bideford, like many medieval market towns has, until recent times, changed and expanded relatively slowly. As a result, much of the structure of the town, its plan or lay-out and its buildings, have been preserved even when the function of those buildings has changed. One of the pleasures of exploring an old-established market town and port such as Bideford, is the recognition of features of the town which have been inherited from a very different past.
GRENVILLE Alison Grant.
ISBN 978-0-9504018-3-6 North Devon Museum Trust 1991.
A5. 78 pages. 23 illustrations. £4.95
This is a study of Richard Grenville, mayor of Bideford, his life, death, character and reputation. The booklet describes his voyages including, Puerto Rico and Virginia (1585), and Newfoundland (1586).
Appledore
THE OCEAN QUEEN; links between Canada and North Devon. Barry D Hughes
ISBN 978-0-9504018-8-1 North Devon Maritime Trust 2011.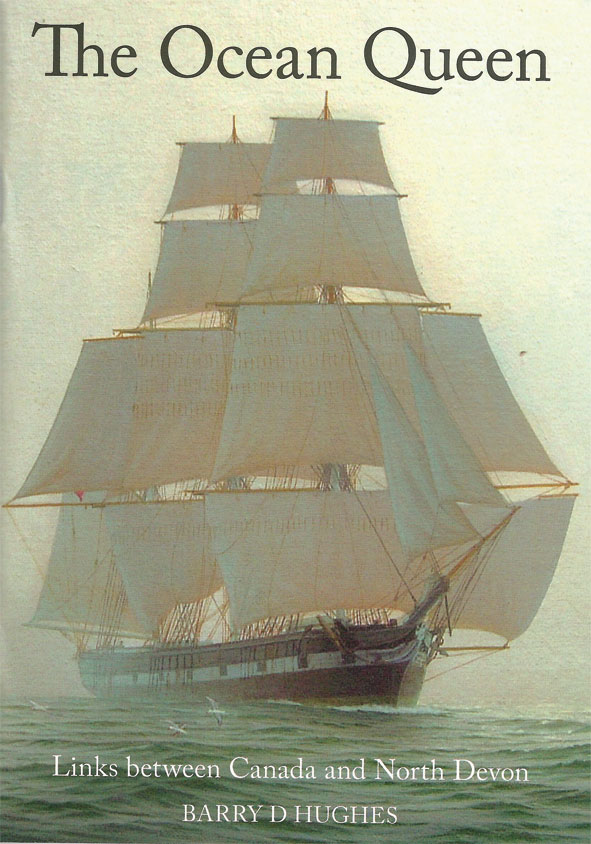 A5. 49 pages. 30 illustrations including 4 colour plates by Mark Myers. £4

Barry Hughes reveals, with evocative descriptions and images, the early interdependence of the maritime communities of the Taw and Torridge and the shores of North-east America some 3000 miles away. Trade, initiated with the development of the seasonal fishing industry off the Newfoundland coast in the 16th century, soon blossomed into a wider transatlantic commercial links in shipbuilding, lumbering, manufactured goods and a human cargo of west country emigrants. The story of the Ocean Queen, built in 1845, epitomizes the strength of the Taw/Torridge transatlantic trade and the sometimes poignant stories buried within its history.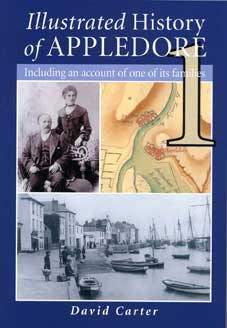 ILLUSTRATED HISTORY OF APPLEDORE 1 David Carter (2000) ISBN 978-0-9538524-0-7 17cm X 24cm 200 pages, 300 photos. £12.50
This admirably detailed liberally-illustrated book presents a strictly chronological history of the shipbuilding and seafaring village of Appledore. Browsing through the opening set of fascinating 'then and now' photographs, each pair about a hundred years apart, one is struck by how little the physical fabric of the village has changed. The lives of the people themselves over the same period is a very different story. The last quarter of the book picks up this human story by focussing on the history of one family, the Slades, probably the most famous of Appledore's seafaring families.
ILLUSTRATED HISTORY OF APPLEDORE 2, Its life and people David Carter
ISBN 978-0-9538524-1-3 David Carter (2009). 17cm x 24cm 246 pages, 400 photos. £13.90
After some 20 pages sketching the early history of Appledore, the rest of the book describes itself as a 'guided tour'. It could perhaps be better described as a 'village companion', for the geographical tour provides a framework to introduce the evolution of the village and its people including many anecdotes and stories so that, in the company of David Carter, we get a real sense of time and place. This guided tour is so comprehensive that to read the 200 pages whilst walking is quite taxing. Better perhaps to curl up on the sofa and read this fascinating book and then, if you visit the village, to follow the route with the 8 page Heritage Trail (below) which will trigger recollections of fuller accounts in the book.
APPLEDORE HERITAGE TRAIL David Carter (2009) £1.00
8 page (A5) booklet introducing twenty-six places of interest to visit in Appledore. Text by David Carter. Twenty six illustrations, including a map of the route, by Bill Wright.
APPLEDORE, handmaid of the sea John Beara
ISBN 978-0-9509110-1-4 North Devon Museum Trust 1976. £3.60
A5. 52 pages. 22 illustrations.
The background to the modern history of Appledore is outlined accurately and clearly.
SALMON NETTING IN NORTH DEVON Alison Grant and Philip Waters
ISBN 978-0-9504018-6-7 North Devon Museum Trust 1998. £5.95
A5. 91 pages. 54 illustrations.
A comprehensive history 'through fair weather and foul, good times and bad'. Details include the construction of the traditional Appledore salmon boat.
BOOK IS OUT-OF-STOCK AND CURRENTLY UNAVAILABLE
HMS WEAZEL 1782 – 1799 Bob and Ann Brock
ISBN 978-0-9504018-7-4 North Devon Museum Trust. Appledore. £4.95
The story of HMS Weazel from construction in 1782 to the time when, as a Royal Navy brig, she was sent to North Devon to protect the coast against pirates and was lost, with all hands, in a hurricane off Baggy Point in February 1799.
WESTWARD HO! HISTORY GROUP, a brief history of Westward Ho!
A stiff A5 folder containing 10 six-page pamphlets, each covering an aspect of the history of Westward Ho! – Pre-historic Westward Ho! – Westward Ho! Heritage Trail – Rev. Isaac Henry Gosset 1816 to 1892 – United Services College – Royal North Devon Golf Course – Sporting Westward Ho! – Vanished Westward Ho! – Seafield House, a brief history – Memory Lane, schooldays and childhood memories – Potwalloping. A5 folder. 65 pages, 71 illustrations. Westward Ho! Community History Project 2004-2007
£3.50