North Devon Coast - AONB
Area of Outstanding Natural Beauty
This page introduces the landscape of the North Devon coast.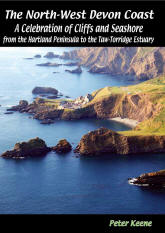 A HARDBACK EDITION
THE NORTH-WEST DEVON COAST
a celebration of cliffs and seashore from the Hartland Peninsula to the Taw-Torridge Estuary
(Peter Keene) Thematic Trails (2014).
ISBN 978-0-948444-65-4
A4.128 pages, 215 illustrations.
£9.00
This really is a guide with a difference. It is the first book I have ever seen which does justice to the North-West Devon coast. Fabulous full-page photos follow the coast from west to east and as the sequence of coastal scenery unfolds, each image is matched by a commentary where explanation and pictures merge effortlessly with poetry, literature, art and recollection, all evoking the unique atmosphere of this wild coastline. Wrecks, pinioned between contorted waves of rock and a relentless sea are filled with memory. Villages hang on the sides of steep clefts in the high-cliffed seaboard. Deep, quiet coombes shelter meandering threads of deciduous woodlands, whilst, in season, salt resistant flowers paint the wind-combed sea cliffs. The whole is sewn together by the life-long experiences and explorations of the author, an ideal landscape companion to share this coastline with you, either as you curl on your sofa at home or explore these cliffs, secret coves or on occasion walk on sweeping sandy shores. [An email compilation].
Excerpt from a double-page spread in the Western Morning News of 23 Nov 2013
"Stunning book is a love letter to the coast"
"Martin Hesp meets a man who turned his childhood love into a career and lifelong passion."
"[The book] is a real treasure trove of discovery for anyone who loves this unique, remote, deadly, beautiful, historic, geologically remarkable littoral [landscape]. The book is about far more than an account of just one single flight up the coast – it is about one professional geographer's lifelong love of and passion for the area.
There are hundreds more photographs other than those taken on that memorable flight - many from long, gruelling and perhaps perilous days Peter spent kayaking up and down sections of what is sometimes called The Wreckers' Coast – and there are notes from what he calls his "commonplace" book, better described as a lifelong diary of jottings and observations taken during the explorations . . . many of these observations, anecdotes and other bits and pieces have now found their way into the new book – attached to the relevant cliff-scapes, head-lands, inaccessible bays, strands, coves, rock stacks, sea-borne forests, hanging valleys, shipwrecks and so on that this most jagged of all coasts hides and nurtures.
It is this kind of intensely personal relationship with an area that allows a person to enjoy a spot of topophilia [love of landscape]. We who exist outside that hidden world should be glad of this, because people like Peter Keene and the books they write open up the last truly secret places this overcrowded island of ours has to offer."
"What a splendid publication - a real treat. I think that it hits the spot in so many ways. The photographs are stunning; the information is enough for the market aimed at; the personalisation gives a feeling of identity; the easy references to further reading lead one on in an effortless way and the links to literature add a wider perception. It is so refreshing to see physical landscapes viewed in this broad way and I am sure that it will appeal to a wide readership of the "intelligent laymen" who so often fall between the over-simple tabloid-type tourist view and the too detailed almost nerd-type geomorphology with its built-in assumption of background knowledge and its daunting jargon." (Paul Pickering 2014)
The North-West Devon Coast attractions listed below, are well worth a visit and all stock the book, The North-West Devon Coast (£9).
HARTLAND QUAY. Hotel (Bar/Shop/Museum) EX39 6DU Tel 01237-44121
HARTLAND ABBEY. Hartland, Bideford, Devon EX39 6DT. Tel 01237-441496
HARTLAND. 'Home from Home' B&B. 7 Goaman Park. Hartland. N. Devon EX39 6DF Tel: 01237 441652 Mob 07790940372
CLOVELLY. Clovelly Visitor Centre, near Bideford, North Devon EX39 5TA Tel: 01237-431781
WESTWARD HO! Summerlands Tackle, 16-20 Nelson Rd, Westward Ho! Devon EX39 1LF (T:01237-471291)
NORTHAM BURROWS CENTRE. Sandymere Rd, Northam, Bideford. Devon. EX39 1XS. Tel 01237-479708.
APPLEDORE. Docton Court Gallery. 2 Myrtle Street. Appledore. EX39 1PH Tel 01237-424949
BIDEFORD. Walter Henry's Bookshop. 12 High St. Bideford. EX39 2AA Tel 01237-425727
BIDEFORD. Burton Art Gallery/Museum /TIC. Kingsley Rd. Bideford. N. Devon. EX39 2QQ Tel: 01237-471455
BARNSTAPLE. TIC/Museum. The Square, Barnstaple. EX32 8LN Tel 01271-375000.
CLASSIC LANDFORMS OF THE NORTH DEVON COAST
(2nd edition) Peter Keene, Geographical Association 199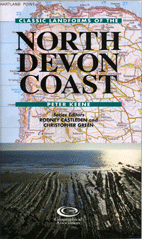 6. Re-printed by Thematic Trails 2005.

ISBN 978-1-899085-18-7
48 pages. 29 illustrations.
£5.95
This booklet provides a serious explanation of the varied landforms of the North Devon Coast. In particular the aim is to offer an interpretation which is not only useful to visiting tutors and students but is also presented in a way which is digestible and fascinating for the interested non-specialist member of the general public. The booklet, drawing attention to a large number of coastal features, encourages readers to make an inquisitive interpretation of the landscape.
Contents: Hartland Peninsula, Westward Ho!, the Taw-Torridge estuary, Croyde Bay and the Exmoor coast with the Valley of Rocks. Each of these five areas has a nesting set of Thematic Trails (see this catalogue). Each trail provides a detailed commentary and clear instructions on walks covering selected themes within this guide. The overarching strategy for all thematic trails is to evoke a sense of place by tempting the participant to play the role of interpreter early in each walk.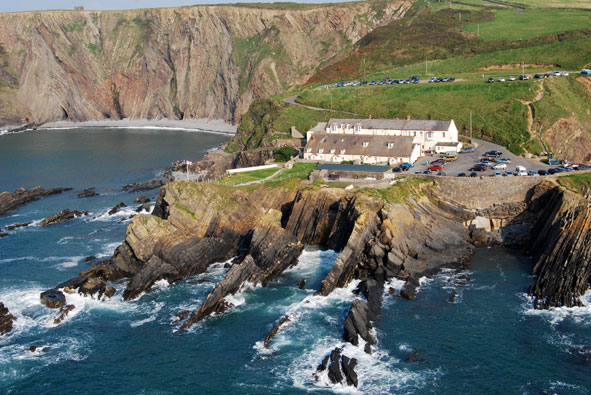 ▲ "North Devon has a coast of startling variety. The spectacular folded Atlantic cliffs of the Hartland Heritage Coast differ markedly from the lofty, rounded 'hogsbacks' of Exmoor. In contrast, at the head of Bideford Bay, lie vulnerable estuary lowlands and salt marshes. This concise, yet comprehensive, field guide admirably serves the needs of visiting academic parties and tutors preparing field projects; at the same time, the logical approach to the geomorphological evolution of these spectacular landforms provides a valuable study resource for teachers, local inhabitants and interested visitors." (Geographical Association)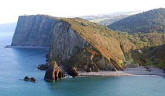 CLASSIC LANDFORMS OF THE NORTH DEVON COAST
(CD photo set of 100+) Peter Keene
(Thematic Trails) 2009
£6.00
100+ photos of the North Devon coast published for those with an interest in photos of the coastal landforms of the North Devon coast. In particular it augments the visual material published in "Classic Landforms of the North Devon Coast" and the ten associated Thematic Trails covering this coast. The photos are in sequence from the Cornish border (Marsland Mouth) to the Somerset Exmoor coast. Many of the images were taken with teaching in mind but a selection of other photos are included, providing alternative insights. The (PC / Mac) images can be viewed in two ways. One file is a PowerPoint presentation with commentary notes and full references (presenter tools option). Alternatively the photos may also be viewed as a high-quality JPG set from which individual photos can be selected as desired. Copyright rules apply.
Thematic Trails North Devon Coastal Landscape Pack
I lead excursions all over the West Country and so I gather information from everywhere and your publications are always the best. I find your works so very good. I always say, "I wish I had written this!!"
(Paul Pickering July 2012).
This pack consists of Peter Keene's "Classic Landform Guide"
(plus CD of illustrations) together with a nesting pack of 11 Thematic Trails which examine selected themes along the length of coast from the Exmoor coast to the Cornish border.
This offer (Coastal pack) costs £31.00 (plus £1.50 handling charge which includes free postage), saving about 25% on the normal catalogue price. The pack is delivered in a firm, plastic, spine-labelled box-folder suitable for book-shelf storage. This offer is not available wholesale.
A Classic Landforms of the North Devon Coast (A Geographical Association Guide)
plus a CD of over 100 images of N. Devon coast in both PowerPoint format with commentary and also as a set of easy-access high-quality individual images.
B Set of eleven Coastal Landscape Companions published by Thematic Trails [see map below]