OXFORD
1 History - 2 Architecture & Art - 3 Green Oxford & Waterways - 4 People & Personalities
1. HISTORY
THE GEOLOGY OF OXFORD GRAVESTONES Nina Morgan and Philip Powell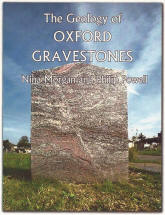 ISBN 978-1-919158-53-1 Geologica Press (2015). 140 pages, 7 maps, a geological column and 389 colour photographs. (softback 25 cm x 16.5 cm) £14.99
The polished or prepared faces of gravestones are the perfect place to introduce the wonders of geology to a new audience but are also a virtual museum of geological specimens attracting the appreciation and admiration of initiated geologists. Nina Morgan and Philip Powell, both knowledgeable geologists and experienced writers, have made excellent use of the opportunity to address both audiences to good effect in their book, which embraces visits to six Oxford cemeteries, in each, selecting up to twenty gravestones of note. These explorations are supported by exquisite supporting illustrations throughout and help to make this treasure trove a must-have for many a book shelf. This is more than a rock spotting exercise. The book broadens its appeal by examining the stonemason's art and details of the 'inhabitants' of these graves which, being Oxford, includes a catalogue of the famous dead
OXFORD: THE MEDIEVAL WALLED TOWN Jacqueline Tivers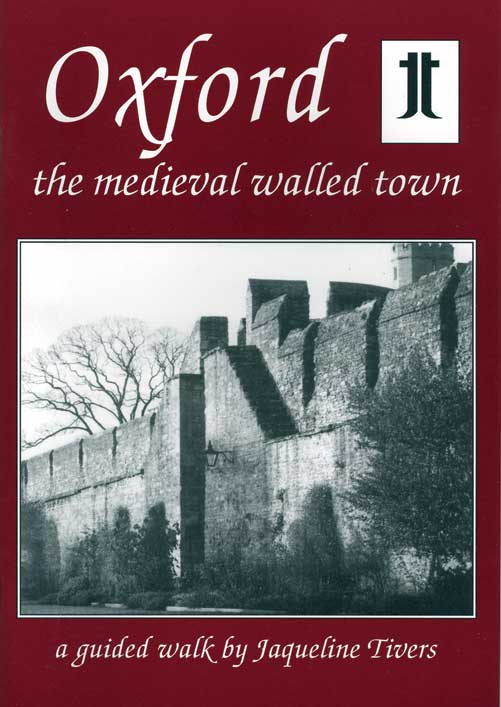 ISBN 978-0-948444-28-9 Thematic Trails 1994 £2.95
40 pages. 11 figures. 7 photos. Like many other historic cities, Oxford was once surrounded by a wall, the first was Saxon, built in 911 AD. Later a medieval wall built of stone was constructed, mainly between 1226 and 1240. This circular walk of some 2 hours (two miles) follows as closely as possible the line of this wall, including visiting the few surviving remnants of the original wall (see right). Exceptional photos, medieval plans and old maps ensures that, by the end of the walk, a feeling of both the size and nature of the medieval town are cleverly evoked.
OXFORD'S WORKING PAST:
A Tour of Victorian and Edwardian Industrial Buildings Liz Woolley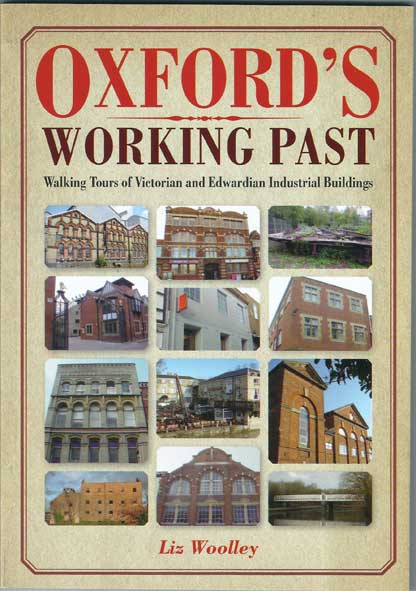 ISBN 978-0-9522671-7-1 Huxley Scientific Press, Oxford. 2012. £6.00
36 pages (A5). 36 illustrations including 5 maps and plans.
With the expansion of Oxford, in the latter part of the nineteenth century, came a burst in the growth of light manufacturing and an expansion of public utilities. A surprising number of the buildings associated with this activity still survive, although having changed their function. The presence of these buildings provides a strong visual backdrop to three walks within which Liz Woolley examines the city's Victorian and Edwardian industrial heritage.
Walk One: The City Centre (1 km). Walk Two: St Thomas's and Jericho (2.6 km). Walk Three: Osney and South Oxford (3.2 km).
OXFORD CITY TRAIL, secrets in the landscape (Oxfordshire Geology Trust) £2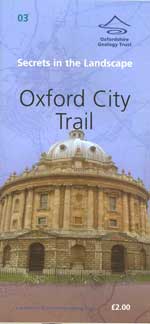 12 page folding pocket booklet 11X24cm, in full colour. 16 plates, 5 maps and figures. An introduction to the geology of the city of Oxford including Headington (Quarries and stone walls) and the city centre (Magdalen College, the High Street and St Michael's Tower). Building materials include local limestone from Headington but stone was also brought in from quarries in the Cotswolds, including from Burford and Chipping Norton.
THE HEART OF THE UNIVERSITY OF OXFORD Philip Opher
ISBN 978-1-874361-21-3 Heritage Tours Publications. 2007 £3.95
34 pages. 55 colour illustrations plus maps. Oxford University does not have a self-contained campus. Most of the University facilities are spread around the city, integrated with commercial and domestic developments. However, in one area, just off the High Street, a magnificent group of buildings form the Heart of the University. This pocket-size guide (10.5 cm X 21 cm) examines that area, describing the history and architecture of the buildings and the urban space they create.
A BRIEF HISTORY OF OXFORD Philip Opher
ISBN 978-1-874361-13-8 Heritage Tours Publications 1997. £3.00
36 pages. 37 illustrations. A guide giving a clear, simple understanding of how and why Oxford grew into such a beautiful, varied, but also sometimes an infuriating, inconvenient and secretive place.
THE HIGH: one of the world's greatest streets Philip Opher
ISBN 978-1-874361-07-7 Heritage Tours Publications 1993. £1.50
32 pages. 36 illustrations.A guided walk: Magdalen Bridge to Carfax looking at colleges and domestic buildings which line this beautiful street.
THE OXFORD COLLEGE by Philip Opher
ISBN 978-1-874361-16-9 Heritage Tours Publications 2002. £3.00
44 pages 65 black and white illustrations. A guide to twelve of the most interesting colleges of the University of Oxford, describing their history, unique character and splendid buildings.
THE OXFORD SCIENCE WALK
Sophie Huxley
Illustrations by Edith Gollnast
ISBN 978-0-9522671-0-2
Huxley Scientific Press 1993, 2006.
£3.00
Size; 12cm by 21cm. 22 pages. 16 pen & ink illustrations. A two-hour walk in central Oxford introduces the close association of so many places in Oxford with the development of Science from the 13th century to the present day. The commentary, at ease with the walker, draws attention to many sites which will inevitably pull visitors back to spend more time exploring the wealth of interest in the city centre.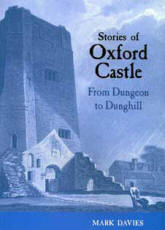 STORIES OF OXFORD CASTLE, from dungeon to dunghill
Mark Davies
ISBN 978-0-9535593-3-6 Oxford Towpath Press 2005-6, £6.99
144 pages, 16 illustrations and maps. Against the background of the castle itself and of the prison, the stories revealed here of imprisonment, transportation, escape and execution shed a new light on the enthralling history of this major Oxford landmark. The stories also expose in dramatic and often touching detail the social conditions which caused so many Oxfordshire citizens to experience the insides of Oxford Castle Prison in the first place.
2. ARCHITECTURE AND ART

AN OXFORD BESTIARY Sophie Huxley
ISBN: 978-1-909214-03-3. Published by Huxley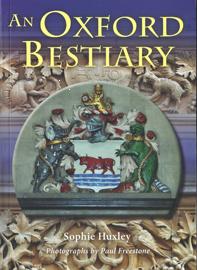 Scientific Press, Oxford. 62 pages (A5 paperback), 31 figures in full colour. £7.99

Sophie Huxley's takes the reader into some of the lesser known and more secret places of Oxford, both in the town and in the university. Representations of animals—mammals, birds, fish, insects, and mythological creatures—in stone, bronze, and stained glass, heraldic animals on college and city coats of arms, their depiction on pub signs, and their mention in street names, all feature in the book. Interspersed with these are accounts of animal myths and legends associated with Oxford and descriptions of literary animals from the works of Oxford writers such as Lewis Carroll, C. S. Lewis, Philip Pullman, and J. R. R. Tolkien. The book is richly illustrated by Paul Freestone.
UNIVERSITY ARCHITECTURE: AN OXFORD WALK Jeanne Sheehy
ISBN 978-0-948444-11-1 Thematic Trails 1988. £1.50
40 pp. 29 illustrations. This guide encourages the recognition of a range of architectural styles as a vehicle for learning something of architectural history of the core of the University of Oxford. Architectural history and urban renewal are discussed.
OXFORD MODERN by Philip Opher
ISBN 978-1-874361-15-2 Heritage Tour Publication 2001. £4.00
40 pages 89 colour photographs. A guide to the new architecture of the city and University.
OXFORD'S CHURCHES, CHAPELS & CATHEDRAL Philip Opher
ISBN 978-1-874361-14-5 Heritage Tours Publications 2000. £5.00
44 pages. 111 colour illustrations. This guide traces the history of architecture through some of the finest religious buildings in England.
OXFORD LIBRARIES, ARCHITECTURAL HISTORY AND PICTORIAL RECORD Philip Opher
ISBN 978-1-874361-17-6 Heritage Tours Publications 2004. £5.00
44 pages 100 colour illustrations. Libraries are the intellectual storehouse of every university. Oxford, the oldest English university, owns about ten million volumes, as well as a large number of manuscripts, maps, literary and scientific papers. The buildings in which they are kept are the subject of this booklet.
OXFORD SCULPTURE Philip Opher
ISBN 978-1-8744361-27-5 Heritage Tours Publications 2009 £4
38 pages, 170 colour illustrations and map.
An illustrated guide to nearly 1000 years of Oxford's stone and wood architectural carving, church and chapel memorials, monumental brasses and public sculpture, from Norman times to the present.
STAINED GLASS Philip Opher
ISBN 978-1-874361-08-4 Heritage Tours Publications 1994.£4.50
32 pages. 40 colour photos. Tours some of the best church and chapel glass in England. Design, meaning and manufacture are discussed.
3. GREEN OXFORD and WATERWAYS
OXFORD TREES Sophie Huxley
ISBN 978-0-9522671-1-9 Huxley Scientific Press 2009 £3.95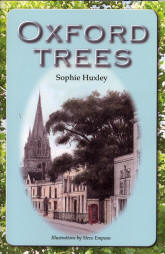 38 pages, with 12 attractive and sensitive black and white illustrations by Steve Empson. A map identifies most of the relevant colleges of central Oxford. This convenient, pocket-sized (12cm x 18cm) booklet, guides the interested observer on a trail of discovery, drawing attention to the wide array of interesting trees to be found in this relatively small urban environment. Many of the trees are located in College gardens with restricted opening times so that planning may be needed if you hope to cover the full range of trees identified. The account is admirably comprehensive, with historic detail on the origins of many of the trees encountered, and spiced with well-selected prose, poetry and quotes. A good read on foot or even curled up in your armchair.
OXFORD ECOLOGY, a walk on the wild side Janet Keene.
ISBN 978-0-948444-14-2 Thematic Trails 1988. £2.95
40 pages, 32 illustrations. A circular walk in central Oxford visits a variety of habitats demonstrating how plants and animals can exploit what is seemingly the most unpromising of environments, a modern city. A final reference section highlights environmental factors and processes which influence wildlife in towns.
DISCOVERING OXFORD'S GREEN PLACES Susan Antrobus and Janet Keene.ISBN 978-0-948444-21-0 Thematic Trails 1991-2002. £2.95
44 pages. 65 illustrations. A guide to Oxford City's hidden countryside including walks around six green sites where nature thrives in an urban setting. The guide draws attention to the diverse wildlife to be found within the city's boundary. Green sites visited include: Grandpont, Holywell Cemetery, Chilswell Valley, Rock Edge, Lye Valley and Spindleberry Park.
OXFORD GARDENS, meadows and parks
Philip Opher ISBN 978-1-874361-20-6 Heritage Tours Publications. 2007 £3.95
38 pages. 69 colour illustrations and 7 engravings and fold-out map. The gardens of the University of Oxford are amongst the great treasures of the city. More than half the land within the boundaries of the city is green open space and the public have access to over 400 separate sites. In this pocket-size guide (10.5 cm X 21 cm) some of the most interesting and delightful sites are illustrated and introduced in depth.
TAMING THE RIVERS OF OXFORD Derek Elsom ISBN 978-0-948444-08-1 Thematic Trails 1987. £2.95
42 pages. 27 illustrations. An Oxford riverside walk which draws attention to the uneasy relationship between the City and its rivers. Past floods are recalled and the extent to which the rivers have been tamed and flooding curbed in Oxford are critically considered.
You will discover further "Rivers in Flood" booklets HERE
A TOWPATH WALK IN OXFORD, the Canal and River Thames between Wolvercote and the City Mark Davies and Catherine Robinson
ISBN 978-0-9535593-1-2 Oxford Towpath Press 2003. £5.99
102 pages including good illustrations and maps. "Beautifully done, a model of its kind." Margaret Drabble. "A remarkable compendium of historical fact and fiction… equally readable as a practical walk guide or as a history book.." Canal Boat & Inland Waterways magazine. "At times like a pilgrimage, at times like a historical pub crawl … the perfect combination." Oxford Times Limited Edition magazine.
The book takes the reader on a near circular walk – approximately seven miles, plus optional detours, with conveniently spaced pubs – along the Oxford Canal and back up the River Thames.
4. PEOPLE and PERSONALITIES

ALICE'S OXFORD ON FOOT Lewis Carroll's Alice's Adventures in Wonderland and Through the Looking-Glass in two easy walks (Mark J. Davies (2014) Oxford Towpath Press and Signal Books
ISBN 978-0-953559-35-0 100mm x 210mm. Paperback, Colour, 56 pages, 46 illustrations, including a double-page spread map of walk. £3.00
This book describes in two near-circular walks, all the locations in Oxford which are associated with Lewis Carroll and Alice Liddell, plus details of other places nearby. Each walk is a maximum of approximately two miles. The book also contains brief biographies of some of the individuals who are thought to have inspired characters, such as the Hatter, the White Rabbit, the Red Queen, and the Dormouse.
OXFORD OF J.R.R. TOLKEIN AND C.S.LEWIS Revd Dr Jeanette Sears
ISBN 978-1-874361-22-0. Heritage Tours Publications 2006. £3.00
32 pages. 40 black and white illustrations and map. A guided walk round the centre of Oxford, visiting places with connections to Tolkein, Lewis and the other Inklings.
ALICE AND LEWIS CARROLL Deborah Manley
ISBN 978-1-874361-02-2 Heritage Tours Publications 1991. £3.00
32 pages. 22 illustrations. Some of the physical locations that provided inspiration for Alice in Wonderland are explored. A guided walk following in the footsteps of Alice Lidell, Charles Dodgson and Isa Bowman.
ERIC GILL in OXFORD Sophie Huxley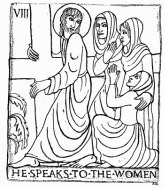 ISBN 978-0-9522671-3-3 Huxley Scientific Press 2011.
28 pages (A5) and 14 illustrations by Edith Gollnast. £4.95

"Eic Gill (1882-1940) is an important and controversial figure in twentieth–century British arts and crafts. He was a complex man, holding deeply religious views while leading a scandalous private life". With these words Sophie Huxley opens her graphic account of Eric Gill's life and the inner contradictions of his character that often infused his art. There then follows descriptions and illustrations of over twenty locations in Oxford and district where much of Eric Gill's work can be examined. One example, the plain inscription 'Playhouse', must have been seen by thousands as they walk down Beaumont Street without knowing its origin. This paragraph is written in Gill Sans.
DARWIN'S MYSTERIOUS ILLNESS, a medical puzzle unsolved for 150 years.
Robert Youngston

ISBN 978-0-9522671-2-6
15 pages (A5). Huxley Scientific Press, Oxford. 2010.
£3.50.
"Shortly after my return from my long voyage, I had a tedious and severe illness, and I have never since recovered my strength and suppose I never shall." (Charles Darwin 4 July 1847).
"For nearly forty years he never knew one day of the health of ordinary men, and thus his life was one long struggle against weariness and strain of sickness." (Francis Darwin circa 1884).
Robert Youngston (Consultant ophthalmic surgeon and specialist in tropical medicine) examines the evidence and comes to a surprising conclusion.
POETS, NOVELISTS AND OTHER LITERARY PERSONS Deborah Manley & Philip Opher.
ISBN 978-1-874361-04-6 Heritage Tours Publications 1994.£1.50
36 pages. 24 illustrations. Three walks in the footsteps of poets & authors who lived in and wrote about the city.
PRESIDENTS, PRIME MINISTERS & OTHER POLITICAL PERSONS Deborah Manley and Philip Opher.
ISBN 978-1-874361-06-0 Heritage Tours Publications 1994. £1.50
36 pages. 21 illustrations. Walks around Oxford in the footsteps of politicians who lived in the city and university, including: Clement Attlee, Jeremy Bentham, Benazir Bhutto, Charles I, Winston Churchill, Bill Clinton, Desirerus Erasmus, John Fulbright, Indira Ghandi, William Gladstone, Edward Heath, Roy Jenkins, T.E. Lawrence, Harold Macmillan, Dom Mintoff, William Morris, Lester Pearson. William Penn, William Pitt, John Ruskin, Margaret Thatcher, John Wesley, Harold Wilson, Thomas Wolsey, John Wyclif.
WOMEN IN OXFORD Deborah Manley
ISBN 978-1-874361-12-1 Heritage Tours Publications 1997. £3.00
35 pages 47 illustrations. Three walks following the footsteps of the remarkable women of Oxford who have made their mark over a thousand years of the city's history.
Exploring the land between art and science? Sixteen poems or meditations on 'scientific' themes by Oxford based author Heathcote Williams. A disturbing and absorbing series of reflections.